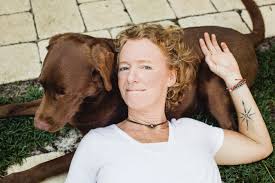 Tricia and Buddy
Join Tricia Booker, that ruthless truth-teller, and your Scribbler, who thinks any story is improved with a bit of exagerration, as we debate how you should best relate YOUR stories to the world – memoir, or fiction "based on a true story."  Sunday, February 25th, from 3-6 p.m. at the beautiful San Marco Books and More.
This is a FREE workshop full of practical tips, and while you're there, you can pick up a signed copy of Tricia Booker's devastatingly honest memoir, The Place of Peace and Crickets, and a copy of Darlyn Finch Kuhn's novel, Sewing Holes.  (Based on a true story. Honest.)
Don't make me come get you!